Family Dentistry in Dallas
Welcome to Bear Creek Family Dentistry North Dallas Office. When it comes to dental care, you'll find everything you need in one location. We have general dentists and specialists like pediatric dentists, orthodontists, oral surgeons, and prosthodontists all right here! That means you and your entire family have access to the highest-quality dental care right in your own neighborhood! Our doctors frequently coordinate to come up with long-term treatment plans to assure that everyone who walks through our door always leaves with beautiful and healthy smile.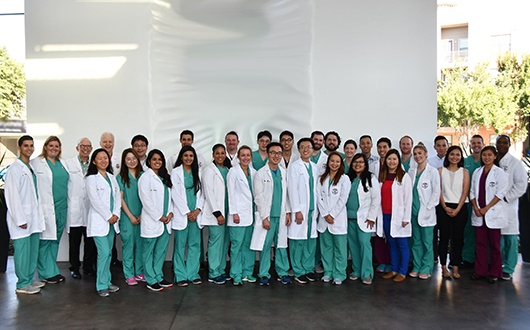 Preventive/Family Dentistry
We can offer your entire family a wide range of preventive services in Spring Valley to make sure small dental issues never become big problems in the future. These include cleanings, exams, x-rays, and other general services. With just two short appointments each year, you and all of your loved ones can have gorgeous teeth that will shine the entire year. We truly believe in the power of prevention here—we'd much rather stop a dental problem than have to treat it later. Our patients tend to agree!
Prosthodontics/Restorative Dentistry
Our restorative services are geared towards repairing broken, damaged, and severely decayed teeth. Fillings and crowns can help fix small cavities, while a dental bridge and dentures can replace multiple missing teeth. However, if you're looking for a more permanent solution, we can also help you get dental implants. Thanks to our in-house oral surgeons and prosthodontists, we can provide you what is considered the "gold standard" of teeth replacement right in Spring Valley. They can permanently fill in the gaps in your smile!
Pediatric/Children's Dentistry
We understand that you only want the best for your children, and when it comes to their teeth, that means they need to see a pediatric dentist. You'll find one at our Spring Valley location, and they'll have the special skills and training to meet your child's unique dental needs. They'll use a gentle touch with every treatment, and make sure that they form a positive association with taking care of their teeth. With the right team, you'll be giving your child a strong start on the road to long, sustained oral health!
Traditional Orthodontic Braces
If you're sick and tired of seeing your crooked teeth in the mirror, we can provide you with traditional orthodontic braces in Spring Valley. Whether they are for you or your child, our board-certified orthodontist will make sure you get exactly what you need to have perfectly straight teeth. They'll be able to coordinate to make sure you treat goes smooth, fast, and gives you the best possible results.