State-of-the-Art Dental Implants
Serving Dallas, Arlington, Mesquite, Grapevine & Fort Worth
Dental implants have changed the way our DFW Metroplex team replaces missing teeth. Rather than restoring just the crown part of the tooth that is visible when patients smile, dental implants allow us to replace both the roots and the crowns for a more natural looking and feeling tooth replacement option for any number of missing teeth from a single tooth to a full arch. If you're missing one or more teeth and looking for the best solution to complete your smile, contact Bear Creek Family Dentistry to schedule a dental implant consultation today. We have numerous convenient locations in Dallas, Arlington, Mesquite, and other nearby communities.
Dental Implant Placement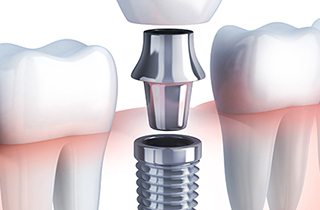 Dental implants are placed and restored over two phases and may include three or more visits to our office. During the initial phase, one or more dental implants will be surgically placed below the gum line. Depending on the number and placement of the missing teeth, your dental implant surgery may be completed in a few minutes or a few hours, and we'll use the necessary sedation method to ensure your comfort for the duration. To place an implant, the dentist will make an incision in the soft tissue. Then, the post will be inserted into the jawbone. Then, a protective cap is placed over the implant post to allow for proper healing while maintaining necessary space for the abutment (attachment piece) to be connected and provide an anchor for the replacement tooth or teeth. Following the placement of the implant(s) patients will need to wait three to six months for the implant to fuse completely with the jaw bone before receiving their final, permanent dental restoration. In the meantime, we may need to provide a temporary restoration depending on the extent of the tooth loss.
Dental Implant Supported Crowns & Bridges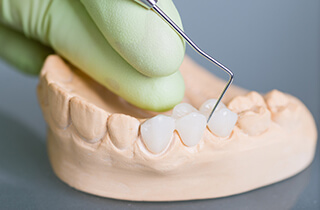 Once the dental implant posts have fused with the jawbone, you'll return to your chosen Bear Creek Family Dentistry practice in Grapevine, Fort Worth, or one of our other Dallas and Tarrant County locations. We'll design and place a custom dental restoration to restore your smile to full form and function. Patients missing one tooth, will receive a single implant post that will support a dental crown. Those patients who have two consecutive missing teeth will often be able to use an individual implant post to anchor two fused together dental crowns. Those patients with three or four consecutive missing teeth will need two implant posts, one at each end, to support a fixed bridge prosthetic.
Dental Implant Supported Dentures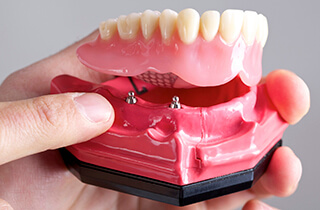 For more extensive tooth loss, patients will need four to six dental implant posts to support a partial or full denture. Like their traditional, removable counterparts, the implant supported prosthetics are crafted by using a gum colored base to provide support for any number of replacement teeth. We use the minimum number of implants possible to achieve adequate support.