Traditional Orthodontic Braces
Serving Dallas, Arlington, Mesquite, Grapevine & Fort Worth
Traditional braces have been used for decades to straighten teeth, correct bite alignment issues, and ensure patients have the optimal level of oral health. At any age or stage of dental development, patients can experience improved oral health through orthodontic realignment using traditional braces. Left untreated, misaligned teeth can cause numerous oral and overall health concerns, so it's essential that any dental misalignment be treated. If you're in need of orthodontic care in Grapevine, Dallas, Arlington, Mesquite, or Fort Worth, there is a convenient Bear Creek Family Dentistry location that can provide complete traditional braces services. Please contact one of our Dallas or Tarrant county locations to schedule an orthodontic consultation soon. We'll be happy to evaluate your smile and offer treatment recommendations to meet your needs.
Why Do I Need to Straighten my Teeth?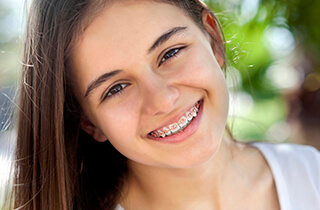 In addition to improving the appearance of patients' smiles, there are a number of oral health advantages to orthodontic treatment. Some of the many reasons we encourage patients to receive orthodontic correction include:
Misaligned bites that place uneven pressure on specific teeth that can lead to excessive wear, cracks, or breaks
Improper pressure on the jaw from the misaligned bite can strain the small, connective temporomandibular joints leading to painful or impeded jaw movement
Unevenly spaced teeth are often more difficult to clean which can increase the risk for tooth decay and gum disease
How do Traditional Braces Work?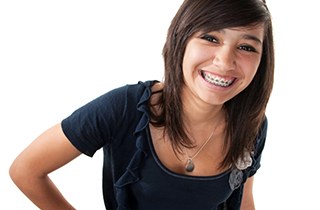 Traditional braces utilize brackets, wires, and bands to gradually shift teeth into their ideal alignment over the course of 12 to 24 months. Brackets are attached to the front surfaces of teeth, and wires and bands place pressure on the brackets moving first the top part of the tooth then the root into alignment. Patients will need to visit our office every four to six weeks throughout their treatment plan, so we can adjust the wires and bands to achieve the necessary pressure. Advances in the materials and techniques used for traditional braces have made the treatment processes more comfortable and efficient than ever before.
Who Should Consider Traditional Braces?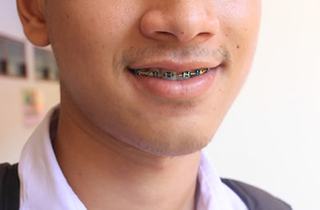 We recommend traditional braces to treat a number of orthodontic concerns including:
Severely misaligned bite that may not be adequately adjusted with other forms of orthodontic intervention
Bite alignment for teens and young adults who have not undergone early intervention orthodontics
Treatment for advanced TMJ dysfunction that makes speaking, eating, and smiling painful or impossible
Orthodontic treatment for those patients who need advanced realignment and who have adequate time to devote to orthodontic visits