Children's Dentistry
Serving Dallas, Arlington, Mesquite, Grapevine & Fort Worth
We love working with patients of all ages at Bear Creek Family Dentistry, and our dentists and team members all look forward to every opportunity to work with young patients. We take the time to make kids feel comfortable, keep them completely safe, and we especially love answering all of their questions. If you're looking for a general dental office that welcomes the whole family, contact our team to schedule an appointment today. We are conveniently accessible with locations throughout Tarrant and Dallas Counties including Fort Worth, Mesquite, Grapevine, Dallas, and Arlington.
Your Child's First Visit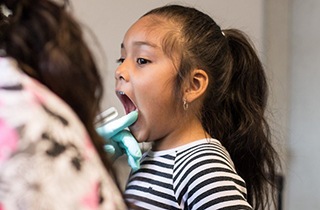 During your children's first appointments, we'll take time to make them feel right at home. We answer all of their questions, take them on a tour of the office, and make sure they get to meet all of our caring and knowledgeable team members. Then, we capture necessary digital x-rays and images, carefully examine their smiles, clean their teeth, and talk to them about creating an effective oral hygiene routine. We do our utmost to make sure your child develops positive associations with the dental office that will last a lifetime.
Dental Sealants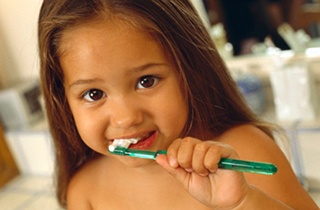 Dental sealants allow us to quickly protect your child's teeth from potentially damaging bacteria, plaque, and tartar. As the name suggests, sealants are applied directly to the surfaces of teeth where they create a clear layer of protective coating that seals out any potentially damaging products. We can apply sealants during a regular office visit, and the procedure is completely painless. We simply paint a coat of the sealant liquid onto the surfaces of teeth. Then, we use a curing light to harden them in place. Once in position, sealants can remain for years protecting teeth from damage.
Tooth-Colored Fillings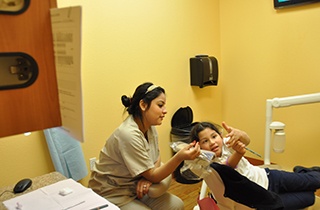 If your child does experience tooth decay or damage, we will be happy to repair their smile using tooth-colored, composite resin fillings. These simple, same day treatments are quick and comfortable to apply, and they will in no way mar the appearance of your child's smile. We simply prepare the damaged tooth removing any decayed or weakened areas, apply the putty-like resin to the surfaces of the damaged tooth, and mold it into position. Once the filling is in place, we use a curing light to harden it leaving your child's smile flawless once more.
Special Needs Care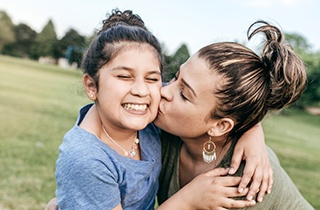 We consider it a privilege to take care of special needs patients of all ages...babies, toddlers, young children, teenagers, young adults, and older adults. We have general dentists and specialists who have training and experience in meeting the special, unique needs of each patient. We welcome the opportunity to be of service in this important area.