Adult Dentistry Services Available at Bear Creek Family Dentistry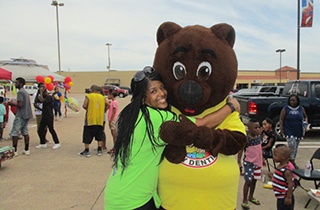 Because of our kid-friendly decor, many patients think Bear Creek Family Dentistry is just for children. We have great news for adults looking for family-friendly dentistry services in the DFW Metroplex - our office welcomes patients of all ages! We want to make dental care a convenient part of your family's busy schedule. That's why we're happy to offer block scheduling to see your family all on one day. We also have a full team of General Dentists and Board Certified specialists in Oral Surgery, Prosthodontics, Orthodontics and Pediatric Dentistry so you and your family are less likely to experience the hassle of being referred out of our office. If you're looking for a dental practice with a focus on preventive dentistry with a family-centered atmosphere, look no further than Bear Creek Family Dentistry.
Why Choose a Family Dentist
Unlike other general dentistry offices, a family dentist makes caring for oral health at every age and stage of development easier. All your dental care needs are met under one roof, so you don't have to worry about making numerous appointments in more than one office. Instead, a family dentist can see you and your loved ones on the same day. This convenience leaves you with some extra time to relax! While we make our office fun and friendly for kids, we've also considered the comfort of our adult patients. You'll feel just as relaxed in our office as your children do.
Our Adult Dental Services
Because we have a team of experts who offer treatment for patients at all stages of dental development, you can receive all your necessary dental services under one roof. Our team focuses on prevention. That means we encourage our patients to visit us regularly and become active participants in achieving and maintaining the optimal level of oral health. Dental checkups are encouraged for most adults at least twice a year. During these appointments, we'll examine your current state of oral health, screen for early indicators of issues, provide professional cleanings, and partner with you to create a personalized treatment plan that will keep you smiling.
In addition to these regular preventive appointments, we also provide a wide array of dental care services including:
Restorative dentistry services like dental crowns, bridges, and root canals
Advanced services like dental implant supported tooth replacement
Specialty dental services like orthodontics, oral surgery, and periodontal therapy
Most importantly, we're here to help whenever our patients need us. That includes offering emergency dentistry services on the day patients contact us in need of urgent treatment.
11 Convenient, Kid-Friendly-Parent-Approved Locations
If you're ready to schedule an appointment for yourself or your whole family, Bear Creek Family Dentistry has 11 convenient locations throughout both Tarrant and Dallas County. That means whatever part of the DFW Metroplex you call home, there's a Bear Creek Family Dentistry office around the corner. We have six Dallas locations, two Arlington locations, as well as offices in Mesquite, Grapevine, and Fort Worth. If you need help finding the best office for your family, give us a call. Our friendly team members will be happy to help.