Prosthodontics & Restorative Dentistry
Serving Dallas, Arlington, Mesquite, Grapevine & Fort Worth
When dental damage or decay occurs, we may need to provide restorative dentistry services. We believe in conservative treatments that preserve the greatest amount of natural tooth structure while providing the necessary level of restoration. If you've experienced tooth decay or damage, we invite you to contact Bear Creek Family Dentistry to schedule an appointment. We have locations in Dallas, Arlington, Mesquite, Grapevine, and Fort Worth, and we welcome patients from other nearby Tarrant and Dallas County communities.
Dental Crowns & Bridges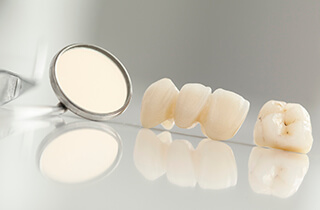 When teeth are damaged or lost, we'll endeavor to provide restorative dentistry solutions that look and feel natural. Crowns and bridges are two of the most commonly utilized restorations. Dental crowns are crafted from a variety of durable materials to fit over the top of damaged teeth replacing lost structure and restoring the tooth to full form and function. Two dental crowns can be attached to surrounding teeth to support one or more replacement teeth creating a fixed bridge restoration.
Tooth-Colored Fillings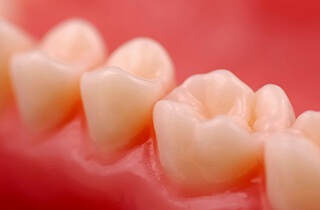 If you experience minor tooth decay or damage, we'll offer a simple, one visit restoration method that will replace the lost tooth structure and restore teeth to their natural look and feel. The process is simple. We may need to remove some damaged tooth enamel or smooth the remaining tooth structure. Then, we'll apply the composite resin filling material that has been shaded to match your tooth. We shape the malleable material into position and apply a curing light to harden the material.
Dentures & Partials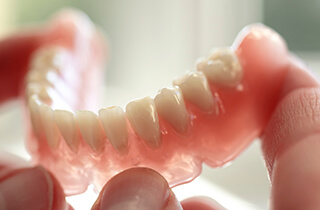 Partial and full dentures are used when patients have experienced extensive tooth loss. Partials are crafted to fill the gaps in patients' smiles. A gum colored base is exactly crafted to fit snuggly between teeth and support the replacement teeth. A full denture fits against the gum line where the friction between the denture base and gums creates suction to hold the full row of teeth firmly in place. We also offer dental implant supported partial and full dentures for additional support.
Root Canal Therapy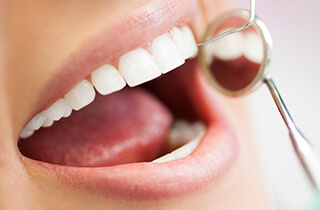 Root canal therapy is necessary when tooth decay or damage reaches the innermost layers of teeth. The pulp layer of the tooth contains the nerve system, so when damage reaches this inner tooth structure, the result is a painful toothache. Root canals are procedures used to remove the damaged tissue, pulp, and nerve. Then, we refill the tooth with a similar substance, and in most cases, we'll need to place a dental crown to protect the treated tooth.