Comprehensive Oral Surgery
Serving Dallas, Arlington, Mesquite, Grapevine & Fort Worth
At most general dentistry practices, you'll be referred out for advanced surgical needs. At Bear Creek Family Dentistry, we have skilled oral surgeons available in the comfortable, convenient offices you already feel right at home in. That takes the stress out of transferring records, communicating treatment plans, and staying on top of insurance. If you'd like to find out more about the oral surgery solutions we offer, please contact us in Fort Worth, Arlington, Dallas, Grapevine, or Mesquite to schedule a consultation.
Tooth Extraction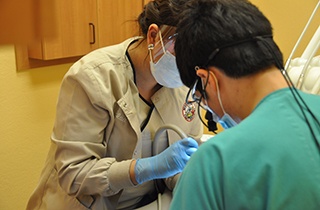 In most cases, we'll work hard to avoid removing teeth by providing advanced restorative solutions that look, feel, and function just like natural teeth. However, there are some situations where tooth extraction is actually the best treatment to protect your overall oral health. When this is the case, we'll be happy to pull or surgically extract your tooth or teeth to ensure the rest of your smile remains whole and healthy. We will work with you to ensure your comfort and safety during tooth extraction.
Wisdom Tooth Extractions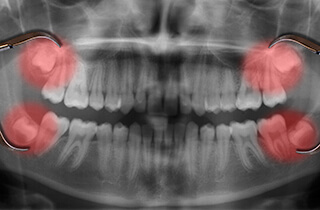 The most commonly extracted teeth are the third molars. Often referred to as wisdom teeth, this final set of molars erupts from the gums between the ages of 17 and 25. We often recommend wisdom tooth extraction because these late developing teeth shift surrounding teeth out of alignment or do not have room to erupt properly from the gum line. We usually recommend patients have these teeth extracted in the early stages of their eruption to minimize difficulty or discomfort that can increase when wisdom teeth are firmly rooted to the jawbone.
Dental Implants
Many general dentistry practices refer patients out to have their dental implant posts surgically placed below the gum line. Our team is happy to offer dental implant placement right in the family-friendly dental practice you've come to trust. We can place dental implant posts and provide a custom-crafted restoration for any number of missing teeth from a single tooth to a full arch. If you're in need of replacement for any number of teeth, give us a call to schedule an implant consultation.