DFW Emergency Dentistry Services
Toothache pain, facial trauma, sports injuries – they can all lead to stressful, anxiety-inducing dental emergencies. If you break your arm, you know who to call and where to go for help, but some patients don't have the same luxury when it comes to dental emergencies. A trip to the emergency room may not be the best solution for dental emergencies. Instead, many patients put of treatment until their dentist is open on Monday morning, even if they experience dental trauma on Friday night. At Bear Creek Family Dentistry, we're here to help whenever our patients need us, and that includes offering same day emergency dentistry appointments. With numerous DFW Metroplex locations, there's a dental office near you whenever you need our help. Call right away if you or a loved one are in need of dental care, and we'll do our utmost to see you on the same day you get in touch with our team. Our goal is to provide treatment to eliminate pain immediately. Then, we'll partner with you to create a long term plan to fully renew you oral health.
Common Dental Emergencies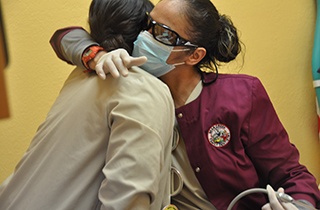 If you believe your dental situation requires urgent care, the Bear Creek Family Dentistry team agrees. We'll do our utmost to see you on the day you call with a dental emergency. Some of the most common emergencies we treat include:
Toothache or dental sensitivity that may indicate a need for root canal therapy
Knocked out tooth or dental restoration
Chipped, cracked, or fractured teeth and dental restorations
Broken or bent partial or full denture
Soft tissue lacerations
Irritation or infection in the gums or soft tissue
Protecting Your Smile During an Emergency
If you're experiencing a dental emergency and can't get to a phone or are away from home and your Bear Creek Family Dentistry team, there are a few tips you can use to protect your smile until you reach our office including:
Clean any affected areas with cool water. Do not rub, brush, or use oral hygiene products unless the dentist expressly instructs you to do so. You may unintentionally damage healthy oral structures.
If you have a soft tissue laceration that's bleeding, use clean cloth or gauze to apply gentle pressure until the bleeding stops.
If you've lost a tooth or dental restoration, try to return them to their original location, using dental adhesives to hold them in place.
Use ice packs or cold compresses at 20 minute intervals (20 on/20 off) to reduce swelling, relieve pain, and slow bleeding.
Preventing Dental Emergencies
Not every dental emergency can be prevented. However, there are a few, simple behavioral changes you can make to reduce your risk for dental emergencies, including:
Brush your teeth twice a day and floss daily
Visit your dentist at least two times each year for dental checkups and professional teeth cleanings
Do not use teeth as tools to open packages or crack nuts
Do not chew on ice, fingernails, pen caps, or other hard objects
Wear mouthguards to protect your smile during sports events
Use nightguards as directed to protect teeth from damage caused by teeth grinding and clenching